Rana Beri
I trust that every human being has great potential in himself/ herself, and as a coach, I support my clients to contact and activate this potential inside themselves. My primary working method is to "ask focusing questions", rather than giving advice. I help my clients to focus on issues that are important to them. I work as a companion to supports my clients to become aware of what they really want in life and take steps towards achieving them.

Transformation in internal awareness is almost always reflected on the private life, career, and life priorities of my clients. This change in the internal dynamics also leads to fundamental changes in all walks of one's life. Once they see themselves from a different perspective, they can see where they want to go and what they want to do in life. With this clarity comes new energy and motivation and they do things differently. When my clients take concrete steps towards the life they want to live, I feel extemely rewarded as a coach.

RANA BERİ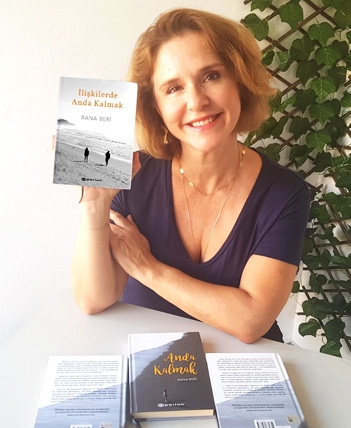 There is no such thing as waste of time . Every moment belongs to its own place.
1989-1990

Strathclyde University – MPhil in Political Science (Glasgow, UK)

Dissertation: Turkey-EU Relations

1985-1989

Boğaziçi University – BA in Translation and Interpreting Studies (Istanbul, TR)

1983-1984

The Harley Private High School – Exchange Student (Rochester, New York, USA)

1978-1985

American Collegiate Institute (Izmir, TR)
2009

Transformation Coach , PCC, Professional Certified Coach working with individuals, especially during times of transition such as changing carreers, relocation, change of life arrangements.

1991-2017

Lecturer, Boğaziçi University Department of Translation and Interpreting

1991-2011

Conference Interpreter at Enterkon A.Ş.

Interpreting for individuals, companies, state officials internationally.
2011-2012

The Art and Science of Coaching, Erickson College Internation

2010-2011

Gestalt Coaching Program, Gestalt Coaching School (Istanbul, TR)

ICF (International Coach Federation) Accreditation
2015

PCC, Professional Ceritified Coach

2012

ACC, Associate Certified Coach
2016

"Limbic Coaching" by Palo Alto Institute for Systemic Coaching

2016

"Advance of the Spirit" by Erickson College International

2015

"Transactional Analysis" by Pusula Danışmanlık

2014

"NLP Business Practitioner" by Anders Pipers, NLP Society

2013

"Coaching for Success" by Academy for Coaching Excellence

2013

"Voice Dialogue – Relationships" by Robert Stamboliev, Institute for

Transformational Psychology (ITP)

2013

"Voice Dialogue- Basics" by Robert Stamboliev, Institute for Transformational

Psychology (ITP)

2013

"Primordial Sound Meditation" by The Chopra Institute

2013

"The Work" Seminare by Byron Katie

2012

"NLP Practitioner" by Erickson College International

2008

"International Quantum Coaching Practitioner" by The Center for Quantum-Integral

Medicine

2007

"Theta Healing Advanced DNA" by Dr. Sangeeta Sahi

2007

"Theta Healing Basic DNA" by Dr. Sangeeta Sahi

2006

"Transformational Breath Level 1,2,3,4" by Dr. Judith Kravitz, Transformational Breath

Federation
Motivational Speaker Experience (Invited Talks and Workshops)
2016

"Keeping Our Spirits High in Times of Anxiety", New Year Meeting, Turkish Conference

Interpreters Association

2016

"Half a Step Ahead in Life", Graduation Speech, Department of Translation and Interpreting

Studies, Boğaziçi University

2014

"Looking Into the Future at the End of 20 Years", A Series of ten workshops for

Enterkon A.Ş. Interpreting Company

2014

"Power of Silence", Young Guru Leadership Academy

2014

"Being Genuine in Life", Graduation Speech, Boğaziçi University

2014

"Choosing Our Profession in Line With Our Values" Pre Graduation Speech, the Izmir

University of Economics

2013

"How Does One Liberate Oneself by Asking Four Questions – Examples From Byron

Katie" at Insparkus Group

2013

"How Can We Fire Our Creativity? – Creativity Workshop Before the Hair-İst 2013 Hair

Styling Competition" at MKM Cultural Center

2013

"Deep and Simple: Five Questions For Deep and Effective Coaching" at Erickson

Coaches Meeting

2013

"A New Life With a New Perspective" at Naturel Body, Mind and Spirit

Festival

2012

"Deep and Simple: Five Questions For Deep and Effective Coaching" at ICF Turkey

2012

"Coaching While Styling" at Turkish Association of Artistic Hairdesigners

2012

"How Do We Benefit From Coaching to Improve Our Relationships" at Bebek Aşiyan
2016

Marie Claire Magazine Wedding Magazine Winter 2016 Issue

2015

Cosmopolitan Magazine Summer 2015 Issue

2014

Trendera Digital Magazine