Rana Beri
Rana Beri is an ICF accredited Master Certified Coach (MCC). She is a Transformation Coach helping individuals and groups to identify their values and create a life in line with those values.

Rana is frequently an invited speaker to talk on various topics, bringing them a Coaching perspective. In her talks, she poses coaching questions and facilitates the participants to find their answers as they stay in the Present Moment.

Rana speaks to different groups in Companies, Associations, Universities and NGOs.

Rana is a graduate of two Coaching Schools accredited by the ICF:
Gestalt Coaching Program, Gestalt Coaching School, 2011 and
The Art and Science of Coaching, Erickson College International 2012.

She firmly believes that coaching is a valuable tool to accompany people on their evolutionary path. Her coaching centers around the concept of being present with the client. For years, she has been studying the concepts of Time and Being in the Present Moment. She has been a meditator for many years and advocates the Mind-Body-Soul connection for more excellent balance and well-being in all areas of life.

Rana puts great emphasis on developing herself constantly as a coach. She has attended and continues to attend many workshops and seminars on topics like resilience, neuroscience, NLP, Voice Dialogue, and Limbic Coaching.

Rana Beri received her BA in Translation and Interpreting Studies at Bogazici University, Istanbul, Turkey. She then received her MPhil degree in Political Science at Strathclyde University, Glasgow. Prior to becoming a coach, she worked as a conference interpreter at international meetings and a lecturer at Bogazici University.

She is the author of two books: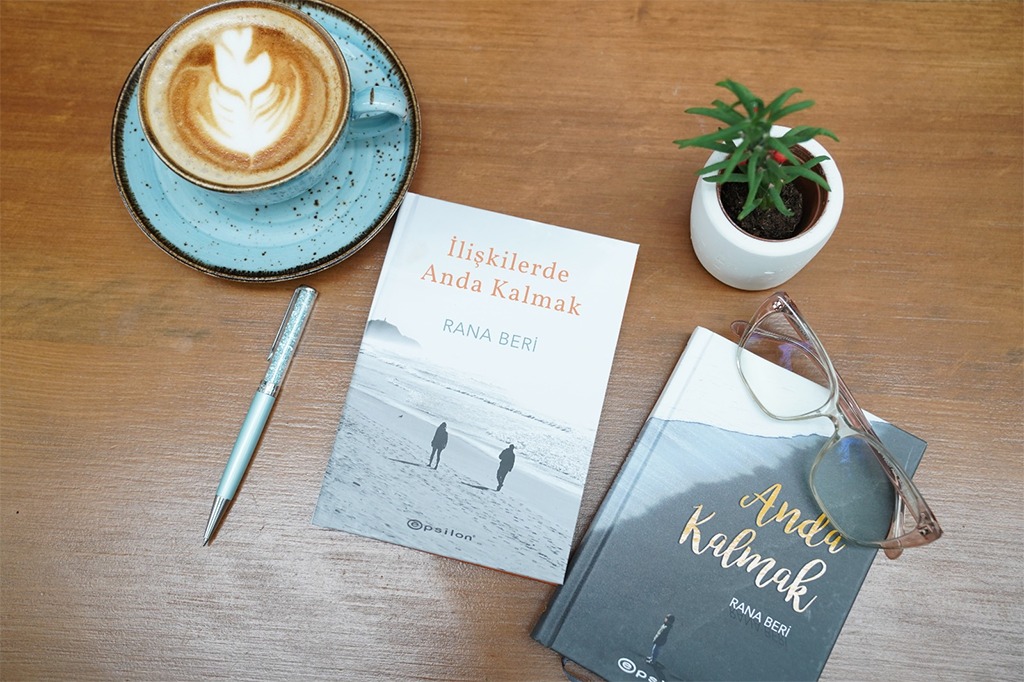 "Being in the Moment" (2018), in which she dwells upon the basics of the concept, explaining it with day-to-day examples to familiarize the reader to start living in a" presence-based" existence.


In her second book, "Being in the Moment in Relationships" (2020), each chapter consists of a fiction story. The rest of the chapter analyzes the story where the characters can not stay in the Moment.

Presently, Rana is working on her next book in the series. She hopes to dive further into the subject with the readers. Both her books are at the Moment in Turkish.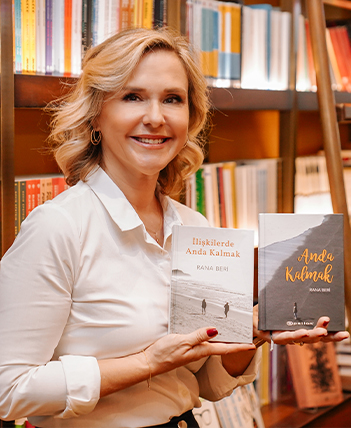 There is no such thing as waste of time . Every moment belongs to its own place.
1989-1990

Strathclyde University – MPhil in Political Science (Glasgow, UK)

Dissertation: Turkey-EU Relations

1985-1989

Boğaziçi University – BA in Translation and Interpreting Studies (Istanbul, TR)

1983-1984

The Harley Private High School – Exchange Student (Rochester, New York, USA)

1978-1985

American Collegiate Institute (Izmir, TR)
2009

Transformation Coach , PCC, Professional Certified Coach working with individuals, especially during times of transition such as changing carreers, relocation, change of life arrangements.

1991-2017

Lecturer, Boğaziçi University Department of Translation and Interpreting

1991-2011

Conference Interpreter at Enterkon A.Ş.

Interpreting for individuals, companies, state officials internationally.
2011-2012

The Art and Science of Coaching, Erickson College International (Istanbul, TR)

2010-2011

Gestalt Coaching Program, Gestalt Coaching School (Istanbul, TR)

ICF (International Coach Federation) Accreditation
2022

MCC, Master Certified Coach

2015

PCC, Professional Ceritified Coach

2012

ACC, Associate Certified Coach
2022

Transformational Traing of the Trainer, Erickson College International

2022

Deeper Coaching by Means of Sufism,Social Sciences Research Center

2022

Evolutionary Coaching, Denge Merkezi

2021

Coaching Game, L2, Points of You

2021

Coaching Game, L1, Points of You

2017

"Limbic Coaching-Advanced" by Palo Alto Institute for Systemic Coaching

2016

"Limbic Coaching" by Palo Alto Institute for Systemic Coaching

2016

"Advance of the Spirit" by Erickson College International

2015

"Transactional Analysis" by Pusula Danışmanlık

2014

"NLP Business Practitioner" by Anders Pipers, NLP Society

2013

"Coaching for Success" by Academy for Coaching Excellence

2013

"Voice Dialogue – Relationships" by Robert Stamboliev, Institute for

Transformational Psychology (ITP)

2013

"Voice Dialogue- Basics" by Robert Stamboliev, Institute for Transformational

Psychology (ITP)

2013

"Primordial Sound Meditation" by The Chopra Institute

2013

"The Work" Seminare by Byron Katie

2012

"NLP Practitioner" by Erickson College International

2008

"International Quantum Coaching Practitioner" by The Center for Quantum-Integral

Medicine

2007

"Theta Healing Advanced DNA" by Dr. Sangeeta Sahi

2007

"Theta Healing Basic DNA" by Dr. Sangeeta Sahi

2006

"Transformational Breath Level 1,2,3,4" by Dr. Judith Kravitz, Transformational Breath

Federation
Motivational Speaker Experience (Invited Talks and Workshops)
2016

"Keeping Our Spirits High in Times of Anxiety", New Year Meeting, Turkish Conference

Interpreters Association

2016

"Half a Step Ahead in Life", Graduation Speech, Department of Translation and Interpreting Studies, Boğaziçi University

2014

"Looking Into the Future at the End of 20 Years", A Series of ten workshops for

Enterkon A.Ş. Interpreting Company

2014

"Power of Silence", Young Guru Leadership Academy

2014

"Being Genuine in Life", Graduation Speech, Boğaziçi University

2014

"Choosing Our Profession in Line With Our Values" Pre Graduation Speech, the Izmir University of Economics

2013

"How Does One Liberate Oneself by Asking Four Questions – Examples From Byron Katie" at Insparkus Group

2013

"How Can We Fire Our Creativity? – Creativity Workshop Before the Hair-İst 2013 Hair Styling Competition" at MKM Cultural Center

2013

"Deep and Simple: Five Questions For Deep and Effective Coaching" at Erickson

Coaches Meeting

2013

"A New Life With a New Perspective" at Naturel Body, Mind and Spirit

Festival

2012

"Deep and Simple: Five Questions For Deep and Effective Coaching" at ICF Turkey

2012

"Coaching While Styling" at Turkish Association of Artistic Hairdesigners

2012

"How Do We Benefit From Coaching to Improve Our Relationships" at Bebek Aşiyan
2016

Marie Claire Magazine Wedding Magazine Winter 2016 Issue

2015

Cosmopolitan Magazine Summer 2015 Issue

2014

Trendera Digital Magazine
Trainings Conducted by Rana Beri
2022

Being in the Moment: The Key to Actual Productivity (Awarded CCEUs by the ICF)